Go Back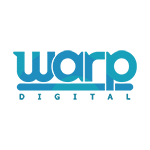 Warp are an independent game development studio based in London, UK. Their close-knit team have covered all areas of game development, from working on their own IP to award-winning third-party titles for Nintendo and Sony. The studio functions as a work-for-hire and porting house and are also hard at work on their own IP, the eagerly anticipated Dune Awakening. Warp are a multi-platform studio which works with the likes of Sony and Nintendo.
Warp Digital are a supportive team with plans to expand and grow over, they believe in striving to be the best they can be by cultivating a team-oriented working environment, a culture based on fixing problems rather than assigning blame, and open and honest communication. Warp continually strive for the ideal outcome, their client receiving a product that faithfully represents their vision, on time and on budget, a product they're proud to add to their portfolio.
Warp also have an extensive benefits list comprised of private health care, continued learning opportunities, quarterly social events and project wrap parties, coupled up with a flexible approach to ensure a good work/life balance in a crunch-free working environment.​