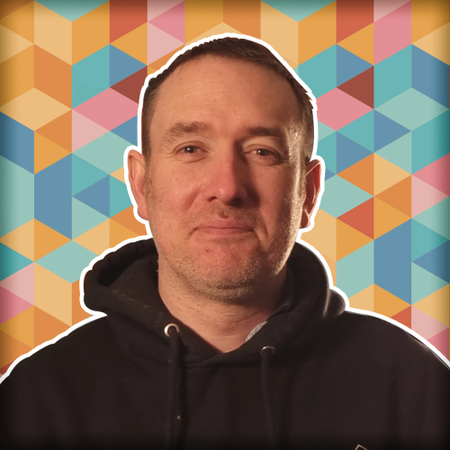 Paul Walker
Recruiter - Programming
I'm originally from Rotherham, but work and family decisions have seen me live in Southampton, Bath, Oxford, and Banbury. Now I'm back in Rotherham! I have a 7-year-old daughter (who is my world). When I'm not being driven mad by endless repeats of the same kid's TV show (mostly Dragons: Rescue Riders), I enjoy football (Sheffield United fan), cricket, and getting out on my bike. I also enjoy creative writing, to date I've written two books in my spare time, reading historical fiction, especially based within the Roman era, and gaming.
​
Favourite Game: Football Manager
Favourite Game Series: Total War
Favourite TV Series: Farscape
Favourite Film: Aliens
Favourite Book: Dawn of Empire
Favourite Song/Band: Oasis
​
How did you get into gaming as a hobby?
I've always been a gamer since the days of the Commodore 64. Cannon Fodder, SWOS, and the disk swapping fun that was Monkey Island 2, were my first big game loves in the 90s. I was the only gamer in the family but I had friends who liked to play games. I remember many afternoons spent on the original Sensible World of Soccer, enjoying 15-0 wins and a few losses between our peer group. I've carried on my enjoyment of games from the first PlayStation and through to the Xbox, PC, and Xbox One.
What's your career background?
I started my working life behind the bar and moved into bar management after university. After deciding it wasn't really conducive to having a good family life, I went back to do a PGCE (ICT). After teaching for 12 years, I decided it was time for a change and moved into recruitment to continue the enjoyment of developing supportive relationships in a more adult setting.
What's an average day look like for you at Aardvark Swift?
My average day kicks off with checking emails/LinkedIn from the day before, and a team meeting to discuss the plan of attack for the hours ahead. I hit the phone throughout the day to source candidates for active roles, or to catch up with those who are in the market. The day jumps between speaking to candidates/clients we know to sourcing those we don't, looking for ways to support them.
What do you love most about your job?
I love speaking with people. The role lets me talk to candidates and clients from all over the world, allowing me an insight into the games industry and a glimpse into the excitement of new and upcoming titles. My role is all about building relationships with candidates and clients and satisfaction comes from providing the support that makes a real difference to peoples' lives.
Favourite memory so far?
My favourite memory so far was a candidate who wasn't keen on spiders, asking for advice on how to deal with them in the UK, as they are apparently much bigger than in his home country. Thankfully, he isn't relocating to somewhere like Australia!