Back to jobs
Senior Graphics Programmer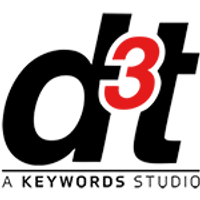 Posted

02 March 2022

Salary

Negotiable

Location

Runcorn

Job type

Permanent

Discipline

Programming

Reference

16916

Contact Name

Dave Moss
Job description
D3T have an exciting opportunity for an enthusiastic and ambitious Senior Graphics Programmer to join their growing team! Based in Runcorn, Cheshire, They offer work-for-hire software development services to the games industry!

As the studio, part of the global Keywords Studios group, works on multiple exciting projects at any one time, they can offer plenty of variety and involvement. D3T work with high-profile clients on amazing game titles and look for the best talent out there in the industry. Producing top quality work is critical to satisfying and retaining their client's loyalty.

D3T are passionate about what they do and pride theirselves on an anti-crunch mentality, mentoring ethos, and have been awarded 'Best Places to Work' multiple times by gamesindustry.biz!

The studio offers an amazingly professional, fun and supportive working environment and culture. In line with this, there is the opportunity for this role to offer partial or full 'working from home', dependent on the individual and the project requirements.

This role is ideal for a Senior Graphics Programmer who has a passion for researching and developing beautiful, modern rendering techniques and implementing them across a range of graphics APIs including DX12 and Vulkan.

Your role and responsibilities will include...
Designing and programming graphics engine components and shaders for PC and next generation consoles
Working with a super-creative and talented art team to research and develop rendering techniques to achieve visual targets
Researching and developing cutting edge techniques to make the games D3T work on look more appealing and impressive, implementing these features in everything from UE4 to bespoke AAA game engines
Creating clean, efficient and well-tested code
Participating in the full development cycle of console and PC games starting from basic prototypes through to game release
Collaborating with other engineers as well as game designers, artists and QA on a number of studio projects
The skills and experience you'll need...
Comprehensive knowledge of C/C++ programming languages
In-depth understanding of HLSL/GLSL shader programming languages
Expertise in GPU debugging and graphics bug fixing
A background writing lighting shaders
Previous professional development with rendering hardware and implementing some modern rendering techniques e.g. screen-space post-processing effects, ambient occlusion, shadows, reflections, modern specular lighting reflectance models
Excellent 3D math skillset (linear algebra, vector math)
Proficiency with modern graphics APIs (e.g. DirectX, OpenGL, Vulkan)
Excellent written and communication skillset
Degree in Computer Science and/or Mathematics or equivalent work background would be beneficial
Confidence and a can-do attitude, with the ability to communicate at all levels
A passion for games and game development is a must, alongside an enthusiasm and interest in current render tech and lighting methods
A self-motivated ethos with excellent problem-solving skills and an eye for detail
Bonus points if you have skills or experience in...
GPU profiling and optimisation
PBR material workflow and general understanding of texture authoring requirements
Working with large code base projects (2+ years)
Just some of the benefits offered by D3T include…
22 days holiday (+ 3 extra at Christmas + bank holidays)
Company Pension Scheme
Flexible working hours
Private Medical Insurance Scheme
Anti-crunch ethos – an amazingly professional, fun and supportive working environment!
Income Protection
Annual Bonus – be rewarded for great teamwork!
Free Studio Parking
Monthly Fitness Sessions
Complimentary Refreshments – an extensive range to suit all dietary preferences
Branded Merchandise
Company Socials, Project Launch/Wrap Parties + Annual d3t Events
Breakout Areas – filled with perks such as games, snacks etc
Assistance and support with re-location to the area