Back to jobs
Technical Animator (Remote Options)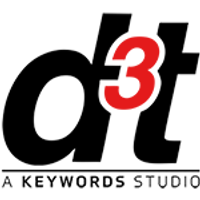 Job description
We're supporting d3t in their search for a Technical Animator to join their award-winning studio.

d3t is at the cutting edge of technology and creativity, delivering co-development video game services to a raft of global triple-A clients as part of the Keywords Studios Group. d3t are a growing studio as they work on multiple exciting projects at any one time offering plenty of variety and involvement.

As a Technical Animator you will apply your understanding of rigging and tools creation to devise solutions and workflows and create high quality character rigs both for in game and cinematic scenes, alongside the rest of the d3t Animation Team.

Working on AAA games, your responsibilities will be...
Create world class character animation rigs and tools for games animation
Devise tools, pipelines, and workflows to support game animation production
Create and develop high quality character rigs and tools for use throughout a variety of game titles
Build, skin, test and maintain rigs for characters, creatures & vehicles and working with the art/animation team to bring these to life
Build, skin, test and maintain a facial set up which may be sent to outside companies to create new motion capture data
Work closely with Tech Art to create and maintain tools for automation and refining the animation pipeline
Work on both in game and cinematic rigs
Use both commercial and in-house tools to integrate characters rigs into the game pipeline
Ensure work hits all memory and frame rate guides and adhere to overall project guidelines in terms of naming conventions, folder structures etc
Work closely with animators and tech art helping improve tools and practices

The skills and experience you'll bring to the role…
Ability to create a variety of specific custom rigs
Experience in rigging and skinning in Maya and 3DS Max
Exceptional attention to detail, especially with regards to character deformations
Thorough knowledge of anatomy, biomechanics and kinesiology for humans and animals
Excellent knowledge of constrain, deformer and dynamics systems and a thorough understanding of weighting, skinning
Good understanding of various tools, software and game engines used in current gen development