Go Back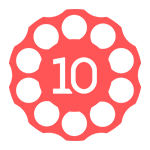 ​10 Chambers are a passionate team of developers who are motivated by creating captivating gaming experiences. Their creative mindset fuels artistic expression, mutual inspiration, and risk-taking in everything they do. It means taking pride in what they make and sharing it openly.
The studio was born in 2015 and saw positive reception for their first game in 2019, GTFO, a 4-player co-op FPS available on Steam. GTFO received an accolade as the Best Cooperative Game at E3 2018 from the website Dualshockers.
With the studio continuously growing their team, they are looking for people who want to join them in bringing in fresh ideas for game titles, as well as cooking up the next legendary co-op gaming experience. You'll be joining a challenging, yet highly collaborative environment, with constant opportunities to both apply and refine your skills.
Located in the heart of Stockholm, Sweden, 10 Chambers is aptly housed in the former Royal Institute of Technology and are leveraging the best of Scandinavian creative culture to create the next gamechanger. They want you to join them in their player-first working culture and are providing relocation support for you and your family, with housing for the first few weeks of your move.
Empowering their team to do their best work, 10 Chambers offer a hybrid working model that prioritises a healthy work/life balance, and a comprehensive package of perks and benefits that includes, private pension package, private healthcare, and a wellness allowance.

Specialist Sectors

Animation
Art
Commercial
Design
Production
Programming
QA & Localisation

Contact