Go Back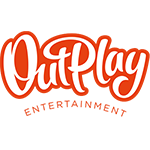 Founded in 2011 and based in Dundee, Outplay Entertainment is one of the largest independent mobile game developers in the UK. They're proud to create delightful mobile games that have universal appeal, whether they're based on their original IP or those of creative partners. The studio has amassed over 160 million downloads, won TIGA awards, been featured multiple times as Apple's Editors' Choice, and received a BAFTA nomination!
The studio has crafted a portfolio of quality, fun, and accessible mobile games that players across the world enjoy every day. With an exciting pipeline of new games in development, and ambitious growth plans for existing games, they've got exciting times ahead.
Outplay's talented and dynamic team is passionately focused on delivering best-in-class quality on every project. Gordon Ramsay's Chef Blast and Mystery Match Village are amongst their best received titles in their portfolio of critically acclaimed and award-winning games, and offer the vibrant visuals, first-rate production values, and casual yet engaging gameplay for which Outplay Entertainment is known.
This award-winning global games studio is a close-knit family and pride themselves on empowering their teams and providing the best possible working environment and professional development opportunities necessary to take your career where you want it to go. They also offer flexible working hours, enhanced parental leave, worldwide travel insurance, and private health and dental care.