Go Back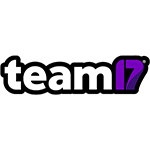 We are supporting Team17 as they seek to hire a number of developers to help them create stunning titles!
​Over the past 31 years, Team17 has developed and published some of the most popular and recognisable series in video and mobile games, from the iconic Worms to The Escapists, Overcooked!, Moving Out, Hell Let Loose, Blasphemous and a whole lot more. They are both genre and platform agnostic, they want to excite and entertain with quality games – and with 110+ in their portfolio there is something for everyone.
Team17 have recently overseen multiple launches across their games label and own IP, and they aren't stopping there. With huge growth plans afoot, the studio is keen to drive their continued success by bringing onboard dynamic, inventive and impassioned individuals who are keen to play their part in the future of Team 17.
Team17 is a melting pot of creativity, offering the opportunity to work across an eclectic portfolio of titles in a genre and platform agnostic environment.