Go Back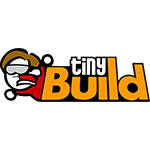 ​Back in 2011, a new game development studio called tinyBuild Games was formed. Fast forward a decade and they not only develop games, but they publish them too!
tinyBuild released their first few games with considerable success, which enabled them to expand into publishing indie games. Since 2013, tinyBuild games have partnered with dozens of developers, providing funding, knowledge, and guidance to help make their partner's games better.
They've grown to over 100 developers with several in-house game development studios dotted around the world, but they're not stopping there!
When you work with tinyBuild, you'll receive a perks and benefits package ranging from relocation support or working remotely to language classes and L&D opportunities and many more that make tinyBuild a great place to work.
Fancy working at one of the industry's largest indie developer publishers? Check out their jobs below!
​