Go Back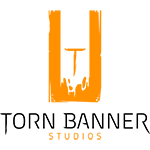 Founded in 2010, Torn Banner Studios is an acclaimed game development studio that has been making a significant impact in the industry since its establishment.
Based in Toronto, Canada, Torn Banner is home to a talented team that push their collective expertise and creative vision into the studio's Chivalry: Medieval Warfare and Chivalry 2 titles. At Torn Banner, ideas are shared by all and they work best when they use the input of different disciplines and perceptions to craft big gaming hits.
Torn Banner Studios has found themselves with a bustling community through their title, "Chivalry 2". This medieval combat game builds on its predecessor and showcases the studio's commitment to delivering unique and engaging gameplay, combining visceral combat mechanics with a captivating multiplayer experience.
Beyond their innovative game development, Torn Banner Studios prides itself on fostering a supportive and inclusive work environment. They offer a range of perks and benefits, including a full health and dental package for you and your family, relocation assistance, monthly learning credit, a flexible working schedule, and a game launch bonus structure. By providing these perks and benefits, Torn Banner Studios creates a space where employees can thrive and excel in their careers while maintaining a healthy work-life balance.
​