Go Back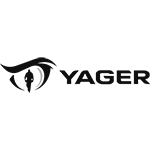 YAGER combine long-term experience with the persistent creative spirit that fuels their love for the games they produce.
​Founded in 1999 by a group of enthusiastic game developers with a mission to create online action games, YAGER's titles include The Cycle: Frontier, Dreadnaught, and Spec Ops The Line, which possess rich game worlds and experiences that give players unique moments they can't wait to tell their friends about.
YAGER's team consists of a rich variety of talented individuals from more than 20 countries. They value and cultivate inclusion, integrity, and ownership that helps them in listening and communicating with their players on what they want to see from the studio's games.
YAGER are passionate about the wellbeing of their people, with free mental health and physical resources, amongst partnered personal, legal, counselling, and workplace support to ensure life at the studio is cosy and growth is reinforced.
Additionally, the studio offer all their employees a company ticket for the public transportation system in Berlin, which reduces the price of a monthly ticket by 30-50%. That's not all though, YAGER's relocation package offers a visa, work permit, and health insurance registration, alongside providing a shared company apartment to get you equated with your first two months in Berlin.
The studio has settled in the heart of Berlin-Kreuzberg, one of the most energetic and culturally rich neighbourhoods in Berlin. Find their current jobs below!
​