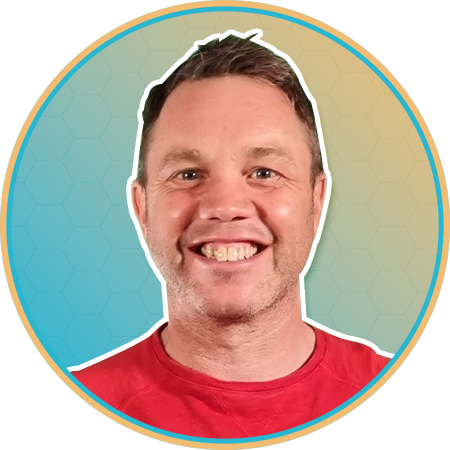 Ian Goodall
Managing Director
I've worked for 20+ years in video game recruitment. I'm the owner of Aardvark Swift, Games Jobs Direct and the founder of Grads in Games and Game Dev Heroes. I'm a passionate advocate for creating a broader talent pipeline for the UK games industry. I'm a Dad to two daughters and my main hobbies would have to be running, cycling and swimming (sometimes all three back to back).
​
Favourite Game: Hogs of War
Favourite Game Series: Lego Star Wars
Favourite TV Series: Phoenix Nights
Favourite Film: One Flew Over the Cuckoo's Nest
Favourite Book: Any Harlan Coben book
Favourite Song/Band: The Stone Roses, Foals or Snoop Dogg
​
How did you get into games as a hobby?
Played as a kid on the Amstrad CPC 464 and the ZX Spectrum 48K. I spent a lot of hours at the local arcade on Double Dragon, Ninja Turtles, Super Sprint and Street Fighter. I've had multiple consoles since, but I don't get nearly as much chance to play as I'd like nowadays.
​
What's your career background?
When I graduated from university I kind of fell into recruitment. I found I had a bit of a talent for it and moved into video game recruitment back in 2000. I set up a new desk at Aardvark Swift that did really well and in 2005 I was in a position to buy the company. Since then we've grown a lot and I don't intend that to stop, we've got a lot planned over the coming years and I'm hungry to get started.
​
What's an average day look like for you at Aardvark Swift?
Luckily for me (and the team probably) I work less from the office than I have over the last 20 years. I've got a fantastic team of people that are powering the business forward and doing really great work for our clients and candidates. I'm usually in meetings, overseeing our in-house marketing team and managing the initiatives we run such as Grads in Games and Game Dev Heroes.
​
What do you love most about your job?
I'll always love the games industry and the people in it. Having spent most of my working life as part of it, I've made some fantastic friends within studios and publishers. I also enjoy working with proactive recruiters and staff that want to learn and progress. That's what the industry is good at, providing people who just want to do well and help each other.
​
Favourite memory so far?
There are so many memories that I can't possibly just give you one. I've laughed a lot over the years and running Aardvark Swift has been a blast. We've got some great people that work for the business and the atmosphere is fantastic. I'll always remember the early days fondly. Starting out as a young recruiter, getting to meet dozens of PR Managers, Product Managers, sales, and media people. A lot of early mornings, late nights and caffeine-fuelled days – all great fun though! Getting up on stage at the DEVELOP Awards and presenting the winners of the Search for a Star game dev challenges, in front of a packed room of UK games industry professionals, will always stay with me. I've got a memory to wind up my recruiters as well if I can put that in here? I still hold the record for the biggest billing month at Aardvark Swift.