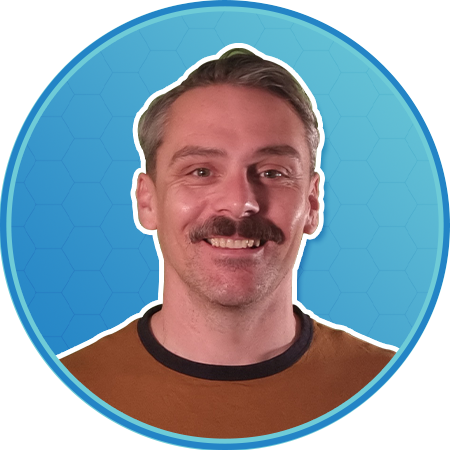 Dave Moss
Recruitment Manager
Dad of 2 and husband to 1.
Failing hipster.
I like overly expensive coffee and I take far too long thinking about what socks to wear every morning. My sock game is unparalleled though. It's not even up for discussion!
​
Favourite Game: Medal of Honour: Frontline
​
Favourite Game Series: Gears of War
​
Favourite TV Series: Sopranos, The Wire, Game of Thrones, and Breaking Bad
​
Favourite Film: Machete
​
Favourite Book: A Man Called Ove
​
Favourite Song/Band: Queens of the Stone Age, Idles, and Metronomy
​
How did you get into games as a hobby?
My first experience of playing computer games was getting a Commodore 64 for Christmas one year when I was young. It came with a Terminator 2 cartridge, which was awesome! My favourite early memory is buying a Master System with my birthday money and completing Sonic the Hedgehog with my dad. We took each level in turns and it was just a wholesome and honest time in my life.
​
What's your career background?
I spent over 11 years within education recruitment which gave me all of the transferrable skills to hit the ground running at Aardvark. I started as an Administrative Assistant and worked my way up the corporate ladder to manage a branch of a nationally recognised agency, before changing tack and moving to a tech start-up within the same industry. In that time, I saw and experienced everything, warts and all. I learnt an incredible amount and I left with a lot of good memories, friends, and I'm very much ready for a new challenge
​
What's an average day look like for you at Aardvark Swift?
No two days are the same, we're so incredibly busy working vacancies for studios all over the world that plans are never really able to be kept. My days consist in varying ratios of speaking to candidates, speaking to new and existing partner studios and ensuring the team are able to work as well as they can.
​
What do you love most about your job?
The team at Aardvark are incredible, especially Marketing, they're the best, I especially love David Heath, he's my favourite human being of all time! The industry itself is so vibrant and active it's a great industry to be supporting.
​
Favourite memory so far?
My first placement, definitely! The stars kind of aligned for this one. A chance phone call from the database, minutes after the client had changed the brief of what they were looking for. Interview arranged that day, placement made within the week. Very happy about that.