Back to jobs
Lead Game Designer (4 day week)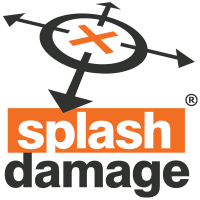 Job description
Splash Damage are recruiting for a Lead Game Designer to help support and mentor Junior Designers as well as working with the Design Director to help communicate project vision and help bring it life.
Collaboration is key at Splash Damage and their excellent AAA team comes together to bring amazing titles to life, you'll be part of this team as they develop a AAA action shooter!
As a lead at Splash, you will have several exciting components to your role such as owning large features and aspects of the game, iteration within the design team based on feedback and getting stuck in with prototyping.  You'll also be managing, mentoring, and coaching the Game Designers on your team, and working alongside Production to help them realise their designs in the build.
The skills and experience you'll bring to the role…
Strong grasp of game design, but with an area you really get excited about – it could be narrative, game-feel, retention, usability, player motivation or something else
Industry experience in a Lead position on a AAA console/PC title that featured a multiplayer component
Worked on a full development cycle for a AAA console/PC title, ideally a 1st or 3rd person shooter
Leadership experience running a multi-person design team and familiarity with managing the performance of the designers on your team
Experienced in planning, challenging and refining task estimates for Junior Designers
Comfortable communicating project vision and securing buy-in from teams and stakeholders
Accomplished at writing quality design documentation, including wiki-based design documentation, flow charts and spreadsheets
Knowledge of industry trends regarding genres, gameplay, and development and financial model
Experience of prototyping gameplay mechanics using UE4, Unity, or similar
An understanding of systems, systemic design, emergent gameplay, and the place of procedural content generation in development
Perks and benefits include…
Bespoke visa and relocation packages for you and your family
Industry-leading fully paid 30 weeks maternity leave and 10 weeks paternity leave
Substantial performance-related pay on top of your wage
Enhanced pension contributions
Private Medical and Dental cover for you and your family, along with a 24/7 digital GP service
Extensive Mental Health support, with Line Manager Mental Health training, a group of Mental Health First Aiders, and on-site or remote counselling
Bespoke Learning and Development course framework to help you grow
Splash Damage's studio culture is rooted in an open, friendly, and collaborative environment. Their games are made by people from all over the world, from entry-level fresh talent hires to industry veterans, and they believe that fostering that diverse culture is the best way to build both their games and studio. They have won numerous awards, including a 'World-Class' accreditation by Best Companies and being named one of the UK's 100 Best Large Companies to work for.