Back to jobs
Senior Animator - Stockholm, SE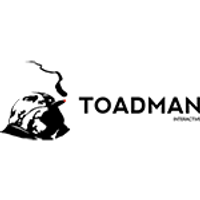 Job description
Senior Animator
Toadman Interactive - Stockholm, SE
Toadman Interactive is looking for a Senior Animator to join their small, cross functional team. Based at their Stockholm studio, you will be working on their first person co-op vampire shooter, EvilvEvil. If you want to be a part of a small, dedicated game team of around 20 where you'll construct intricate levels on ground-breaking titles! Toadman has an inclusive, creative & friendly environment where they build games together that they themselves want to play.

Toadman care about each other and their players. Their work environment is warm, collaborative and welcoming. They encourage honest conversations and everyone at the company plays an active part in the game making process. They believe that an open feedback culture is key to bringing better games to their players.
Passion for games is what really unites them over at Toadman, across country boarders. They believe that game development isn't a straightforward production process, but an act of creation. They encourage creativity and exploration in all of their studios as important factors when building games.


Your role and responsibilities will include...

Animating modern witches, vampires and other monsters

Implementing and testing your animations inside the engine

Guiding and mentoring animation colleagues

Planning and task creation

Collaborating with other other departments to find the best possible gameplay solutions

Pushing boundaries to reach a higher game quality

Building an open, friendly work environment
For this role, you will need...

At least 5 years' professional game development experience

Knowledge of Maya & Motionbuilder

A passion for animation and a strong understanding of animation principles

Organised with good communication skills

Collaborative team player

Bonus points if you have...

Experience in leading a team

Worked with animation in other industries outside of games
Sound interesting? Get in touch with Liam for more details
Liam.hollinshead@aswift.com or +44 (0)1709 834 777