Back to jobs
VFX Artist - Runcorn, UK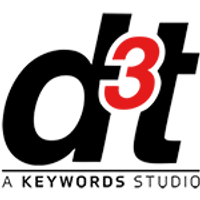 Job description
VFX Artist
d3t - Runcorn, UK


d3t is continuing to grow and they are now looking for a VFX Artist to join the expanding Art Team. The studio is at the cutting edge of technology and creativity, delivering co-development video game services to their global triple-A clients. Part of the Keywords Studios group, d3t work on multiple exciting projects at any one time offering plenty of variety and involvement.

Based near Runcorn, Cheshire, the studio offers an amazingly professional, fun and supportive working environment. They are passionate about what they do and pride themselves on their anti-crunch mentality, mentoring ethos and have been awarded 'Best Places to Work' multiple times by gamesindustry.biz including in 2021.

Having an excellent eye for detail, they are looking for someone who can create world class Visual Effects that support and enhance the gameplay experience. d3t work with very high-profile clients on amazing game titles and the quality of the Visual Effects artwork is critical to satisfying and retaining their loyalty.


As a VFX Artist at d3t, you will...

Follow a pre-defined art direction or concept to produce visual effects in varying art styles
Create high quality visual effects, from prototype through to implementation in game, including bug fixing and polishing, and assisting with conceptualising new ideas and exploring new techniques
Develop clean and efficient systems, with an awareness of what is required for optimal performance, ensuring work hits memory and frame rate guides and complies to project guidelines in terms of naming conventions, texture layering structures, folders etc.
With a professional and organised approach, adhere to schedules and promptly feedback concerns, updating Jira and communicating progress.
Respond to art direction effectively and assist in both providing and implementing feedback
Keep up to date with industry advancements and technologies and share knowledge with the VFX art team
Add to the library of tutorials, documents and technical guides to improve efficiency in the VFX art processes and be proactive in finding solutions to technical issues
Mentor junior VFX Artists and help promote a culture of collaborative innovation
For this role, you will need...

Excellent artistic ability exhibited through a portfolio/showreel, demonstrating a range of 2D and 3D real time game VFX
An understanding of timing, weight, physical behaviour and motion physics
Details knowledge of current visual effects trends and technologies and a passion for innovation
Proficientcy in Maya/Max, Photoshop, Substance and After Effects
Experience in bespoke VFX software such as Houdini, UE4's Cascade or Niagra, Unity's Shuriken, PopcornFX, FumeFX or Ember Gen
A background with various tools and game engines currently used in game development
Good communication and organisation skills and happy working as part of a multidisciplinary art team
A practical and methodical approach to both technical and creative problem-solving and an ability to take art direction effectively
To demonstrate dependability and commitment to projects and tasks, and a hunger to learn and improve as a VFX artist
Flexibility and a calm approach, with the ability to adapt with change
Ability to deliver quality work within fixed time constraints
Passion for staying up to date with latest technology and embracing new game art techniques
Just some of the benefits of working with d3t include...

25 days holiday (+ bank holidays)
Company Pension Scheme
Flexible working hours
Private Medical Insurance Scheme & Eye Care Scheme
Employee Share Scheme
Anti-crunch ethos - an amazingly professional, fun and supportive working environment!
Income Protection
Annual Bonus – be rewarded for great teamwork!
Tech and Bike Scheme
Complimentary Refreshments – an extensive range to suit all dietary preferences
Company Socials, Project Launch/Wrap Parties + Annual d3t Events
Breakout Areas – filled with perks such as games, snacks etc.
For this opportunity, the studio are ideally looking for candidates looking for a studio based or hybrid working arrangement (splitting time between the studio and working from home). They will, however, consider fully remote workers too for this opportunity.



For more information regarding this opportunity please contact Jordan Langley at +44 (0)1709 834 777 or email jordan.langley@aswift.com now!